The number one reason travelers flock to Cancun is to spend their days relaxing on its soft, white-sand beaches. The palm trees, vibrant culture, and year-round sun don't hurt either.
Discover the 7 best beaches in Cancun
The Caribbean Sea around Cancun is home to the second-largest such reef in the world, second only to the Great Barrier Reef in Australia. Marine sea life abounds here, so it is a haven for snorkelers. There's a beach in Cancun for every traveler and we recommend you visit a few during your visit to see which one is your favorite.
Puerto Morelos Beach
Drive 25 minutes out of town to this charming small-town beach to get away from the party atmosphere of the hotel stretch of Cancun. At Puerto Morelos Beach, you can find both locals and travelers. The beachfront is less developed, you won't find 500-room hotels with private access only beaches here.
A leaning lighthouse was almost blown over during a 1967 hurricane but is still standing tall. This fishing village is the perfect escape from the bustling streets of Cancun. You will love the laid-back and relaxed vibe of the locals here.
Local restaurants serve traditional food right by the beach.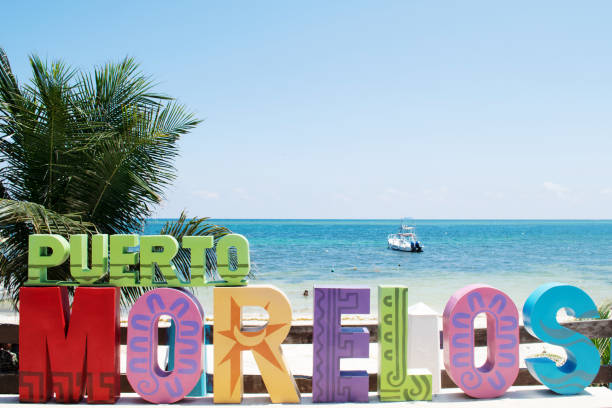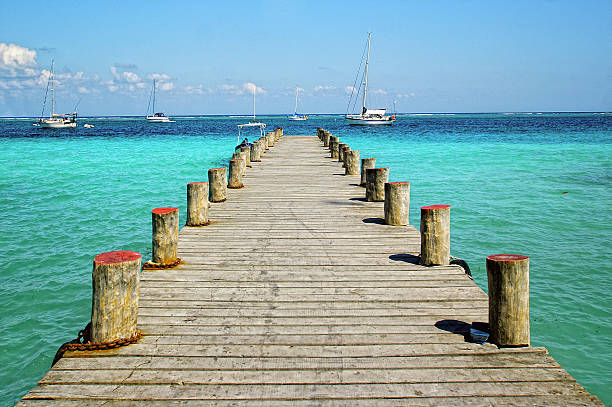 X'cacel Beach
Nearly all of the coastline around Cancun is super-developed. X'cacel Beach is a rare stretch of virgin beach, meaning there are no hotels or buildings built alongside its silky white sands. The beach is part of a sea turtle conservation group and donation is necessary to enter. You can feel certain that your small donation will go back to the beautiful marine life that calls the Caribbean Sea home. What better way to keep this a paradise for generations to come?
X'cacel Beach has an added bonus, there is also a cenote here.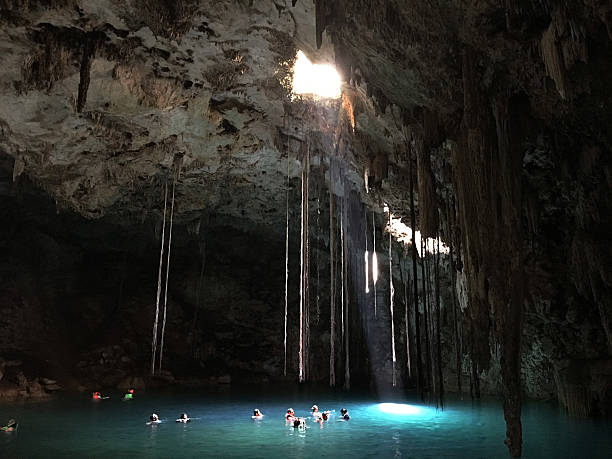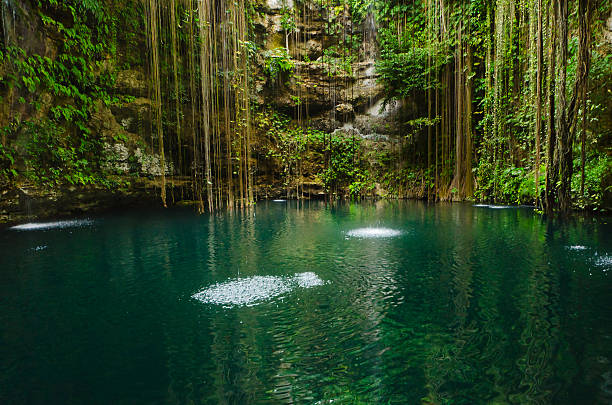 These freshwater limestone sinkholes are refreshingly cold places to swim. Bring all of the food and drink you need. This beach is all-natural, so there are no bars or restaurants located anywhere near it.
Playa Chac Mool
Sitting just south of the bustling hotel zone is Playa Chac Mool. This is the beach to go to if you are looking for some peace and quiet. Grab a good book and get lost in it while the waves hitting the beaches sound in the background.

The view of the sea and the curves of the shoreline of Cancun can be seen from its picturesque beaches. Bars and restaurants line the sands and are always offering up a chair if you are ready to buy some drinks and food. It's easy to see why this little stretch of paradise is one of the top beaches in Cancun.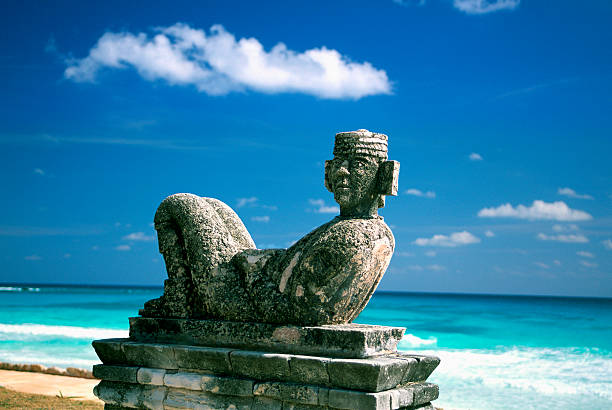 Playa Forum
With all of the massive resorts claiming private beach access, there are unfortunately only three public beaches in Cancun. The best one is Playa Forum, located right in the center of town. During peak travel times, it can become very crowded since it is the most popular beach in Cancun. Despite this, it is a beautiful and well-maintained beach with postcard-worthy scenery. Rent a sunbed and float in the water for an amazing afternoon.
Beachgoers come to Playa Forum to have fun so there is usually dance music playing and a party happening somewhere. There are upscale nightclubs and many tasty restaurants located right behind the beach so you can easily find food when your family gets hungry.
Playa Norte Isla Mujeres
Just north of Cancun, there is a ferry that takes you to a tranquil tropical island, Isla Mujeres (Island of the Women). On the north point of this small island is Playa Norte Isla Mujeres. The waters are calm here since they are protected by Cancun's coast. Relax with the waves gently lapping at your feet as you look out on the turquoise blue waters of the Caribbean. Grab a drink after you are done soaking in its warm waters.
Don't forget to explore the island before you leave!
Golf cart rentals are available so you can enjoy an adventure-filled day trip from Cancun. Drive around the island, meeting iguanas, stopping for some piping hot churros, and to the Mayan ruins on the southern point of the island.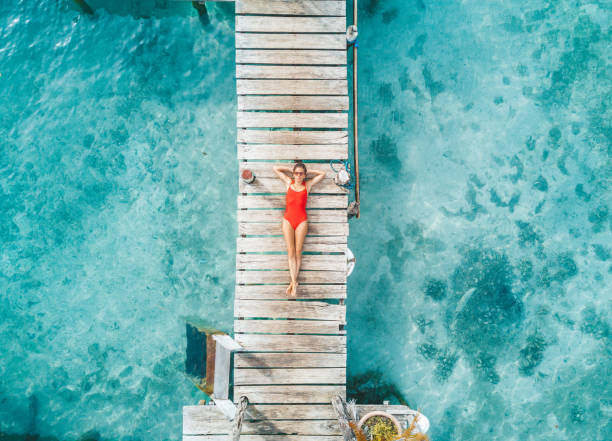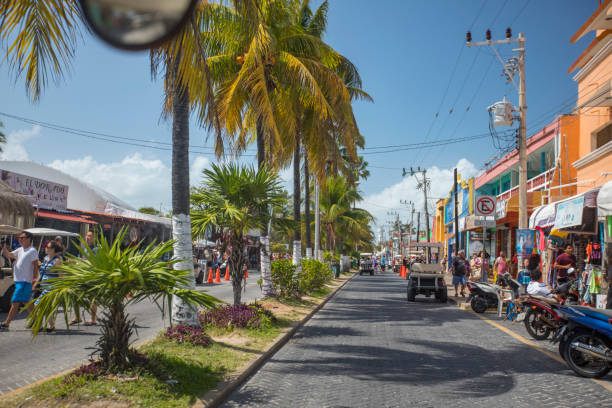 Playa Delfines
Don't be too afraid if you see a gray fin poking out of the water at Playa Delfines (Dolphin Beach). It is named after the numerous dolphin sightings from its shores. If you are ready to wait in line with the other Instagrammers, you can take a photo with the famous Cancun beach sign here.
Playa Delfines is just ten minutes from downtown Cancun but its free parking is popular. A taxi is usually your best bet. This is a rare public accessible beach in Cancun that stretches for 14 stunning miles. No hotels or restaurants are built alongside it but you can still find stands selling fresh fruit and drinks if you get hungry. The fine sand is pristine and the sea breeze is warm.
The water is known to be fairly rough here, so swim with caution.
There are numerous lifeguards but the riptide is strong so most children are reminded to stay in the shallows. Surfers love the waves here, so grab your board if you are experienced enough. Get here early if you want to rent a lounge chair and umbrella, it becomes very crowded in the afternoon.
Playa Del Carmen
Playa del Carmen got its start as a small fishing village but has since turned into a top travel destination. Less than an hour's drive from the hotel zone of Cancun, its picture-perfect beaches call out to travelers who want a less crowded beach experience. The beaches are more natural and less developed than in Cancun.
Snorkelers love it here, the coral alongside the beach is teeming with turtles, manta rays, and other marine life.
Near the beach are the ruins of Coba Mayan Village, ready for exploring once you have your fill of sun and surf. There are authentic local restaurants and great shopping in the town as well. This is a day trip worth taking.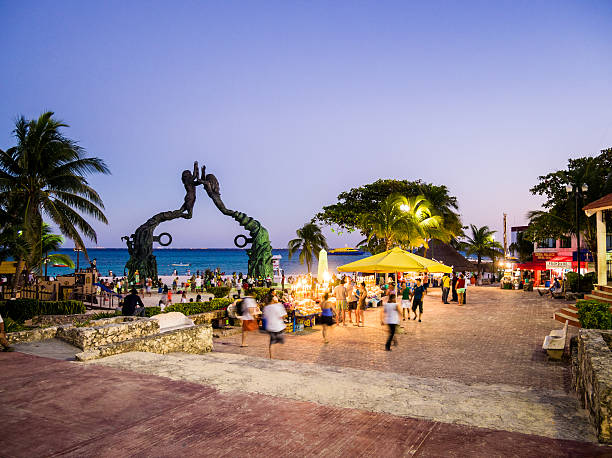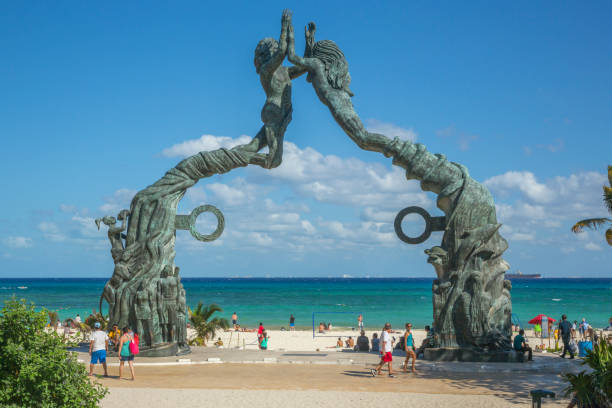 There is no bad beach in Cancun, don't make the mistake of staying on one small stretch of sand during your trip to Mexico. Explore the surrounding beaches and get a feel for the local region.