There are so many resorts to choose from in travel-friendly Cancun that it can be difficult to make a choice. A bad hotel can quickly stain the memories from your dream Mexico travel vacation. The best way to guarantee a fun vacation for the whole family is by choosing an all-inclusive resort. This means food is always available, along with activities for both the kids and adults.
Travel Mexico – If you are planning to travel to one of the most popular destination of Mexico then we have picked the ten best all-inclusive resorts in Cancun for families. When you are traveling with family then first thing comes to our mind "is it safe to travel to Mexico" ? and the answer is Yes if you stay to popular destinations. Read on to see which one will be your next home away from home on your next trip to Mexico.
Read our travel guide to discover the best times of year to visit both the sunny beaches and the bustling cities of Mexico.
Mexico Travel : 10 best all-inclusive resorts in Cancun for families

Cancun Weather In December : 83° / 68°
Hard Rock Hotel Cancun

Every kid's favorite rock n roll themed chain restaurant has its own all-inclusive resort in Cancun, Mexico. Hard Rock Hotel Cancun is all about the fun, from the décor to the activities.
Their kid's club has unique activities you will not find at any other resort, like the Music Lab. Your kids get to become a Rockstar! They choose the props, instruments, and costumes to make their very own music video. There is also a kid's cinema and four on-site pools, one with slides and water features made for kids.
Adults haven't been forgotten, relax in one of the many jacuzzis while your young ones make crafts or play games.
The Grand At Moon Palace

Luxury and all-inclusive resorts in Cancun. Family-friendly mesh perfectly at The Grand At Moon Palace. No matter what age your kids are, there is something here for them. The Sunrise Playroom features interactive games, a creativity area, and a fashion catwalk. Teens can hang out in the Xbox room and the in-house movie theater. labyrinth, or sandbox. There's also a baby area, a swing garden, monkey bars, and a seesaw.
There is a pool just for adults so you don't have to worry about getting splashed, a state-of-the-art fitness center, and a nightclub called Unique.
Read on to discover 8 Best Restaurants In Cabo San Lucas Mexico
Nizuc Resort and Spa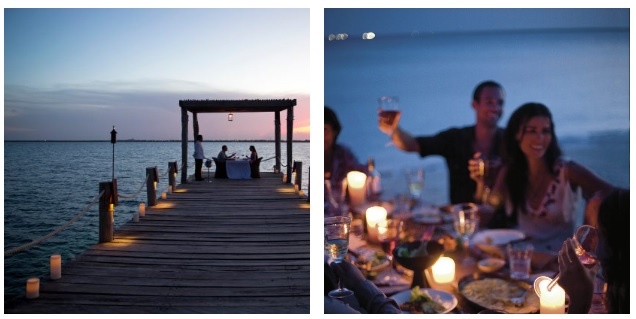 With lush gardens and panoramic views of the Caribbean, Nizuc Resort and Spa is the ideal escape. Parents will love the hydrotherapy, hot stone massages, and sea salt scrubs available at the spa. While you unwind, your kids will happily spend hours at the Winik's Kids Club. The staff takes the kids out for activities in the clubhouse, one of the three pools, or the beach. Ping pong tables, hockey, snorkeling, paddleboarding, and more will make this a trip they remember for a lifetime.
Finest Playa Mujeres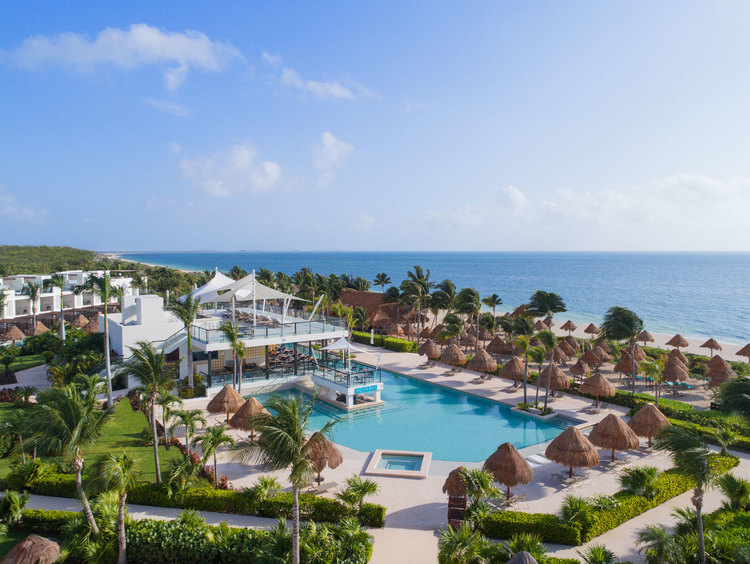 Finest Playa Mujeres has a sleek and welcoming design full of mini-oases. Couples massages and gourmet dining will help you and your partner relax. Your kids will be busy enjoying the activities that are included with your room, like windsurfing, paddleboard, and kayaking. An on-site waterpark will ensure that boredom is never on the schedule for your young ones.
Fiesta Americana Condesa Cancun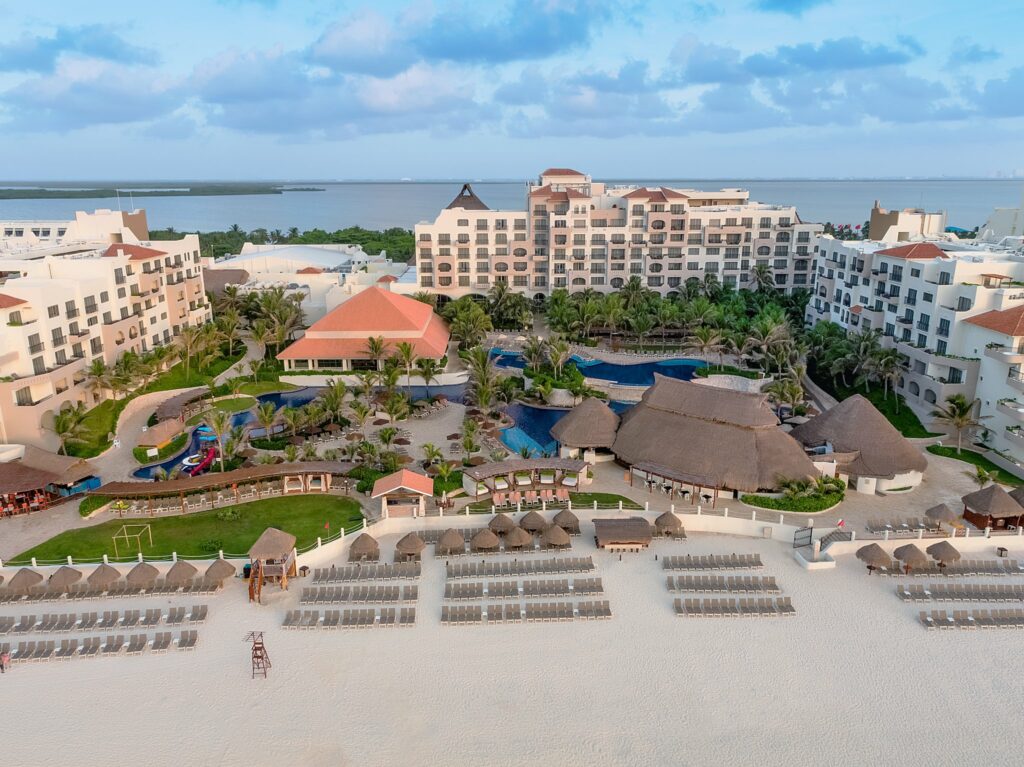 Located right in the center of the hotel district, the Fiesta Americana Condesa Cancun puts an emphasis on world-class service. Gorgeous rooms with luxury features open out to balconies with sea views. There are two outdoor pools and one children's pool with slides. Parents can sweat out some of the tequila at the health club or be pampered at the spa.
The resort has beach access with its own private lounge chairs and umbrellas. Plus, there are a dozen restaurants with tastes for every picky eater.
Your family will never be bored. There is both a kids club and a teens club with activities planned and game rooms. Every Wednesday, the staff shares their culture with a Mexican themed party. A mariachi band plays lively music while you eat piping hot churros and a buffet-style dinner with traditional food is open.
Iberostar Cancun
Recently renovated with new features, including a gourmet Japanese restaurant and a massive buffet, the Iberostar Cancun is a first-class resort. Featuring seven pools, one with water park features, tennis courts, and a soccer field, you and your family can stay active the whole trip. An 18-hole golf court is owned by Iberostar and is located directly across the lagoon. What better place to put some holes than overlooking the azure waters of the Caribbean?
Paradisus Cancun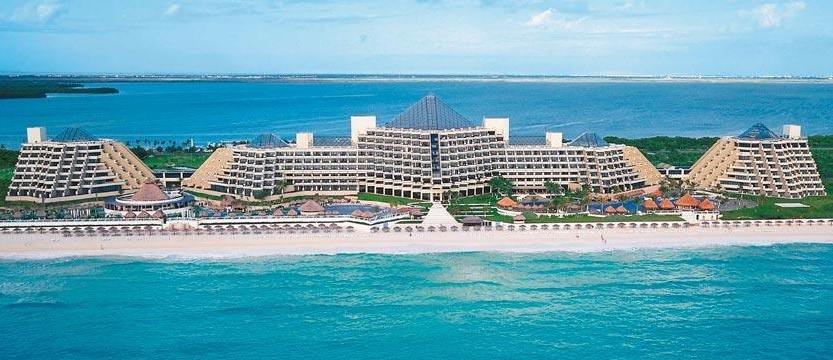 The Paradisus Cancun is an all-inclusive escape with lavish, interior tropical gardens, and access to a long stretch of white sand beaches. Kids can stay at the play clubs, where they do crafts, play sports, and watch tv while you and your partner unwind at the 9-hole golf course.
The pool stretches across the entire length of the hotel and will remind you of a river in its size. There's even a swim-up bar so you can enjoy some cocktails in the cool water. Your kids will love to splash around as you relax under the shade of an umbrella.
Hyatt Ziva Cancun
The Hyatt Ziva Cancun is all about fun and convenience. Food is always available for you and the kids. Kids clubs have a constant schedule full of planned activities, from the playroom to the beach to the pool. There's even a special teens club so your oldest children won't get too annoyed with your youngest. The private beach sits along calm water with lounge chairs and umbrellas available at no extra cost. Every night, the Hyatt puts on a show, with fire dancers and magicians. Your family will never want to leave!
Panama Jack Resorts Cancun
Panama Jack Resorts Cancun is right in the middle of the action so you will never miss a thing. Plus, the prices are competitive so the family on a budget may be able to stretch their dollar farther here. The atmosphere at Panama Jack is fun and active so it's not a resort for families who only want to relax. Boredom is not on the menu, for you or your kids. The kid's water park features a pirate ship and slide.
There are wine and tequila tastings for the adults as well as yoga and Zumba classes. The whole family can try their hand at beach volleyball or take a cooking class.
Club Med Cancun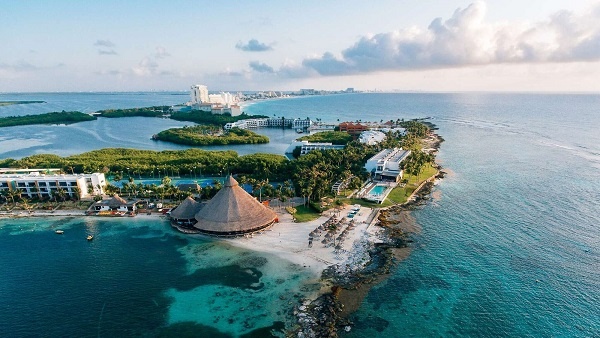 Club Med Cancun truly cares about respecting the culture of Cancun. It is a Perfect all-inclusive resorts in Cancun for family. There is a big emphasis on experiencing Mayan culture and history and eating authentic Mexican food. It's located on the tip of the Riveria Maya with three stunning beaches. Go sailing or explore the coral reef, there is something for everyone here.
There are so many activities and things to do at Club Med. Many of the activities are for parents and children to do together, so you can use this vacation to become closer with your loved ones. Your son or daughter can even take horseback riding or golf lessons. Plus, the kids have their own pool with slides.