The award-winning and innovative restaurant scene in Los Cabos is gaining international attention. Its location right on the water means that chefs have access to the freshest seafood possible. There is a perfect restaurant here for every mood, taste, and budget. From fine-dining to hole-the-wall taco joints to traditional family-owned restaurants, discover what's on the menu at the best restaurants in Cabo San Lucas.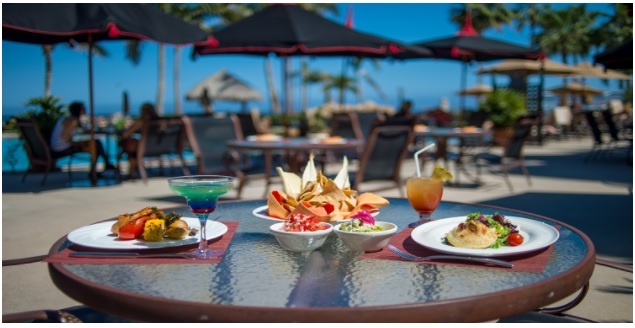 Cabo San Lucas sits at the tip of the Baja California Peninsula. This picturesque region of Mexico is known for its azure Pacific Ocean waters, pristine beaches, and vibrant culture.
The weather here is excellent all year long, making it the place to go for a beach vacation. However, if you think the beach is the only thing remarkable about Los Cabos, you are missing one of its best features. As an increasingly popular tourist destination, some of the most innovative chefs in Mexico have taken up shop here and perfected their menus.
Is Cabo San Lucas Safe :
As per Mexican travel advisory Cabo is one of the safest place to travel and U.S. government has also not placed any restrictions on travel but recommends travel with "caution" .
Weather In Cabo San Lucas :
| | | |
| --- | --- | --- |
| Month | High | Low(°F) |
| October | 92° | 74° |
| November | 87° | 68° |
| December | 81° | 62° |
Cabo San Lucas, Mexico Weather averages
Read our travel guide to discover the best times of year to visit both the sunny beaches and the bustling cities of Mexico.
TOP 8 Restaurants
Gardenias
Locals love the tacos at Gardenias and it is easy to see why. Inexpensive and family-owned for decades, this is an essential stop in Cabo. Although they have small burritos and steaming soups, the knockout dishes here are the tacos. Made with fresh shrimp and fish from the local beaches, you can pile them high with fresh toppings. If you're not in the mood for seafood, their shredded chicken and cactus tacos are mouth-watering as well.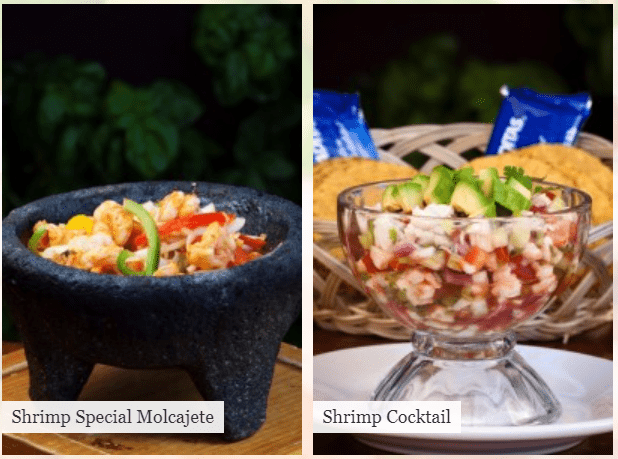 Los Tres Gallos
If you are looking for an inexpensive place to enjoy artisanal and traditional Mexican food made with care then visit Los Tres Gallos restaurant . You would love eating hand-rolled Tortillas which comes with made in house delicious salsas. The walled-in courtyard out back feels like a fairy-tale. Lights hang off tangerine trees while live music plays.
If you are a pork lover then make sure your try the pork carnitas which are slow-roasted and melt in your mouth. Leave some room for dessert, their churros with chocolate are worth it.
Read on to discover places to Visit in Cabo San Lucas Mexico.
The Office on the Beach
When vacationing in Cabo, you never want to leave the beach. One of the best restaurants in Cabo San Lucas if you do not want to leave the beach for food. Luckily, The Office on the Beach is located right on the silky sands of Playa El Médano. The food is slightly pricier than comparable restaurants due to its unequaled location. Feel the sea breeze on your face while you enjoy fresh seafood, margaritas, and tasty burritos. As the night begins to fall, this area becomes lively and sometimes they even get out a piñata.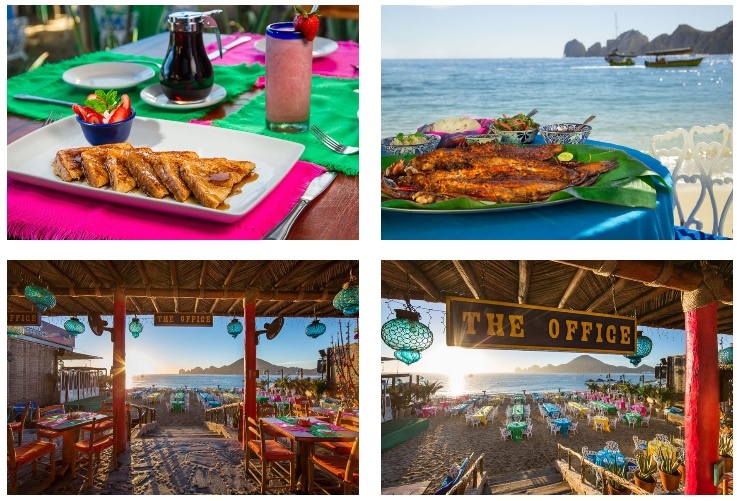 Mama's Royal Cafe
Brunch isn't a huge trend in Mexico, so Mama's Royal Cafe really stands out. Here you can enjoy mouthwatering brunch with a Mexican twist. Fresh-squeezed juices and house-made salsas and guacamole are available to give your dish that extra touch.
The menu is large and is full of options sure to please everyone. A wide variety of traditional Mexican breakfast options like huevos rancheros are made with care. American-style brunch, like french toast and eggs benedict, are a hit as well. If you enjoy your bloody mary with a kick, be sure to order one here.
Taco Fiesta
This no-frills taco place is the real deal. At Taco Fiesta, both locals and tourists can be seen waiting for an authentic snack. The owner herself can usually be seen behind the counter, talking to her customers. This place is open late and is usually at its busiest after midnight when party-goers are walking home from their night out.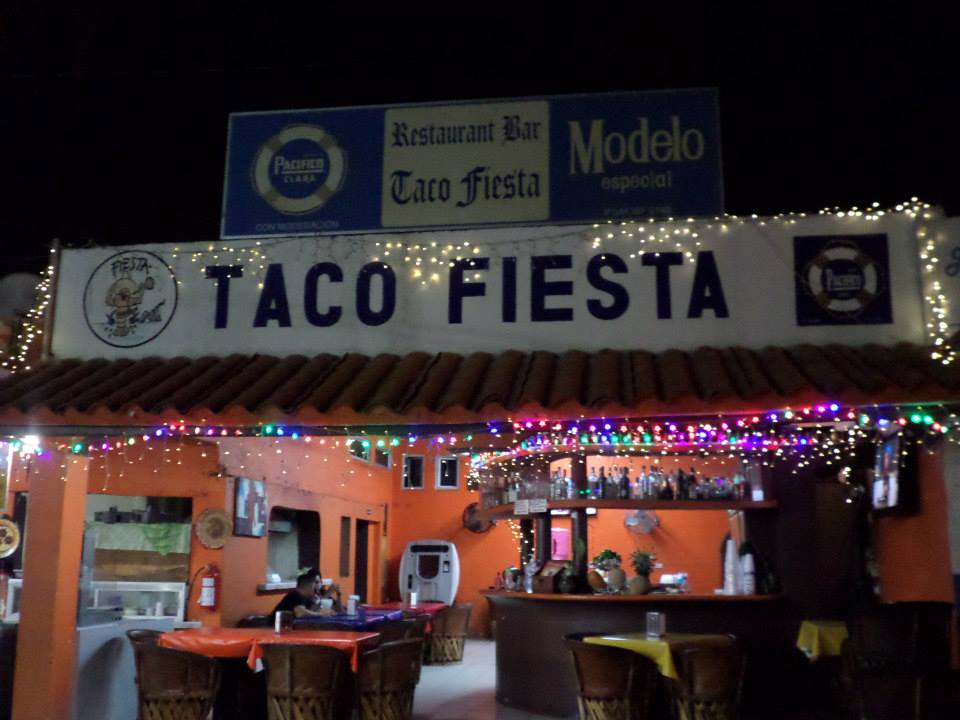 Although it's near some large hotels and in the center of town, there has been no price gouging. Taco Fiesta is able to keep their prices cheap and their food tasty. The tacos al pastor are the star menu item with their homemade margaritas coming in a close second.
La Casona
Not a lover of seafood and wondering where you can eat in a shellfish-obsessed place like Cabo? La Casona has you covered. This is one of the best steak houses in Mexico. The fillets here are tender and perfectly seasoned. The vegetables on the side of your plate and the fresh fruit in your drink are all organically grown in the region.

Ask your server for the perfect wine or tequila pairing for your juicy steak, they have a wide selection.
Manta at The Cape, a Thompson Hotel
At Manta At The Cape, located in a luxury Thompson Hotel, your dining companion is a breathtaking view of the ocean. Floor to ceiling windows in the dining room bring you face to face with the secluded beach, crashing waves, and it lights up with reds and oranges during the sunset. The food here is locally sourced from Baja California with an emphasis on freshness and sustainability.
The focus here is seafood with a contemporary Mexican and Japanese twist. The name has two meanings, the majestic manta ray, symbolic of the seafood, and the Spanish word manta, meaning canvas. This is symbolic of the chef's artistic expression while developing his dishes.
Guests rave about the hand-crafted cocktail menus, many made from tequila and fresh fruit from the area. The sashimi melts in your mouth and the scallops are full of flavor. This is a fine dining experience, so be prepared to spend a bit more.
Sunset Monalisa
One of the best restaurants in Cabo San Lucas if you want to have dinner with a view. The views from your table at Sunset Monalisa are truly postcard-worthy. Sit on terraces perched right over the Sea of Cortés with an amazing view of the arch at Land's End. An on-site photographer is there to snap some shots of you and your loved ones and to catch any marriage proposal or other special event. Live music is played near your table and some tables are near open fire-pits to keep the nighttime chill at bay.
The menu varies depending on what ingredients are most fresh that week. Enjoy Mediterranean inspired dishes like pasta, pizzas, and seafood.

If you are looking for a place for special occasions then Sunset Monalisa is a place. Only set 3-7 course menus are available and a bill for two will easily surpass $200. The tables are usually full, especially if you are interested in clinking your wine glasses during sunset. Tables with the perfect view have an extra charge as well, but most say it is worth it. Make reservations well in advance.