Mexico may have an old reputation for being dangerous but in reality, many areas are safe for you and your family. In fact, Mexico has quickly become a popular family holiday destination over the last few decades. For family vacation in Mexico you need to stay away from the border towns and head to tourist-heavy areas along the beach where daily life is generally free from crime.
Read below to discover some of the best things to do in Mexico on your next family vacation.
Please read our article 10 Best Things To Do in Puerto Vallarta, Mexico & Travel Guide for more detail
All-Inclusive Resorts for Family Vacation in Mexico
For some families, a true vacation means relaxing while a friendly team take care of the rest. This is when spending your holiday in an all-inclusive resort is a life-saver. An all-you-can-eat buffet means no cooking while pools, kids clubs, and planned activities keep the whole family busy. If that's what you are looking for, then you're in luck.
There are dozens of top resorts to choose from in Mexico. You only have to choose which city. There is something to do in Mexico any time of the year. Please read our article The best time to vacation in Mexico for more details.
Cancun
Cancun is an established resort town with all-inclusive resorts and great infrastructure already in place for visitors. The airport is only a fifteen-minute drive away from the city center and the hotels are world-class.
There are plenty of adventures to share with your family in Cancun. Making sandcastles on the beach, snorkeling with the fish, and catching a glimpse of jumping dolphins during a catamaran cruise are always good ideas.
Captain Hook Pirate Dinner Cruise is the perfect activity for kids who love pirates. Eat dinner in a replica of an 18th-century Spanish galleon while on a three-hour cruise in the bay. Xplor Park is the answer for adventurous families. This theme park has zip-lines, ATVs, cave exploring, rafting, and more.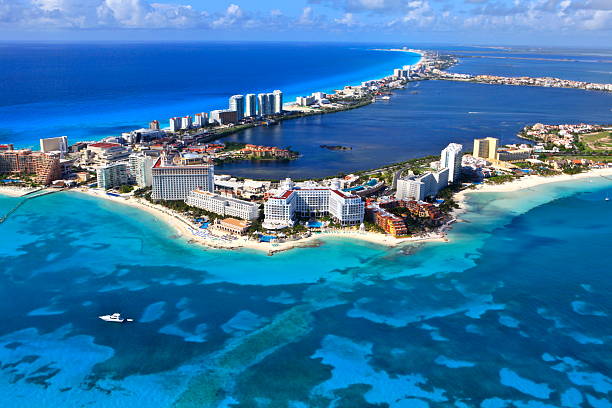 There are dozens of great resorts to choose from. The Seadust Cancun Family Resort is ideal for the active family. Activities like zip-lining and a water park are all included with your rates.
Family Vacation in Mexico – Cancun all-inclusive resorts
If you don't want your family to share the hotel with rowdy college-aged partiers and heavy drinking, avoid spring break. The spring break season lasts from March to April.
Tulum
Not far from Cancun lies its much calmer and less developed neighbor, Tulum. This resort town sits on the stunning Caribbean coastline of the Yucatan Peninsula. The natural beauty and quieter atmosphere make this the perfect answer for those who want a less-touristic beach town.
Natural swimming holes called cenotes are found in the Yucatan Peninsula, with dozens right in Tulum. Cenotes are sinkholes made in porous natural limestone. You and your family can plunge into the cold, refreshing freshwater. Gran Cenote is known for its strikingly blue waters and is right outside of Tulum.
Cenote Zacil-Ha is open-air with ziplines and areas set up for jumping. Remember not to wear chemical sunscreen, it is forbidden since they have destroyed cenotes in the past.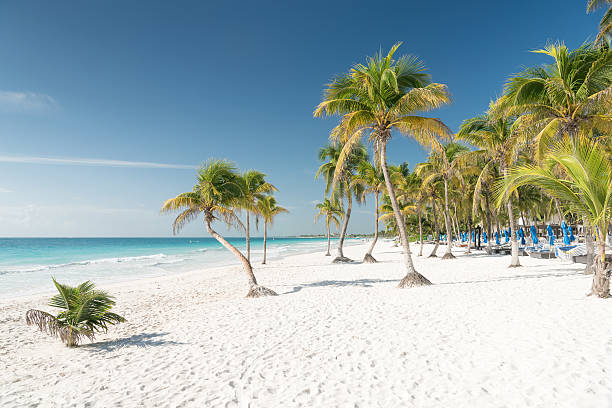 History abounds in Tulum, with many Mayan ruins located nearby. Chichen Itza is just a two-hour drive away and one of the new seven wonders of the world. This striking limestone pyramid was a religious center of the Mayan's largest city. Make sure to arrive early or near the evening, this is one of the most visited archeological sites in the world. Crowds are large in the middle of the afternoon.
Dreams Tulum Resort & Spa is the only true resort in Tulum. With hundreds of rooms, a huge swimming pool, and nine restaurants, your family will never want to leave.
Los Cabos
Don't forget about the less-touristic west coast of Mexico. Cabo San Lucasand the calmer San Jose del Cabo sit at the tip of the Baja California Peninsula, with a stretch of sea separating it from the mainland. This picture-perfect region of Mexico is known for its clear turquoise waters, stunning beaches, and laid-back atmosphere.
Families should be careful and stick to beaches that are designated for swimming. Some beaches are ideal for walking on and looking at the sea but have steep ocean cliffs and strong currents. Some of the most popular swimming beaches are Medano Beach and Chileno Bay Beach. Bring a towel, grab an umbrella, and spend your day relaxing in paradise while your children play.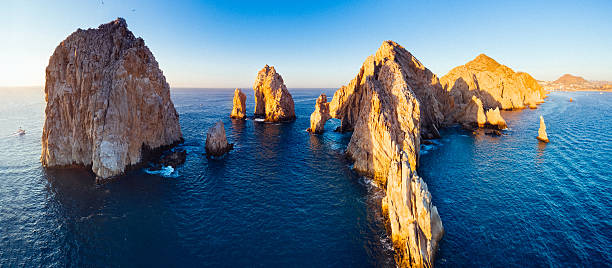 There is no shortage of marine-life at Los Cabos for animal lovers. Whale watching season is from November to March and baby turtles hatch on the beaches from July to November. Go on a boat tour or volunteer with a turtle organization if you want to get up close and personal.
Panoramic Aerial View of Cabo San Lucas in Baja California Sur, Mexico.
The Hyatt Ziva Los Cabos maintains the perfect border between family-friendly and luxurious. The pool is huge with plenty of lounge chairs for parents. Kid-friendly food is available right beside your more adult-oriented tastes.
Mexico City
Mexico City isn't always an obvious choice for families. The largest city in North America. Even though it's crowded and often jam-packed with traffic. Mexico City is worth a visit for its wealth of cultural offerings.
With more than 150 museums, Mexico City is a great place to learn something new. The biggest problem here is that there is too much to see, you will have to leave many museums and sites for another visit. The Palacio de Bellas Artes is one of the most eye-catching buildings in the city.
Fine art adorns the walls of this opulent neoclassical multi-domed masterpiece. Art lovers shouldn't skip Frida Kahlo's house called Casa Azul (blue house). Stepping into Kahlo's home, where she was born, lived, and died, gives you a better understanding of who she was as a person. Her special medical corsets remain for viewing, along with some of her artwork.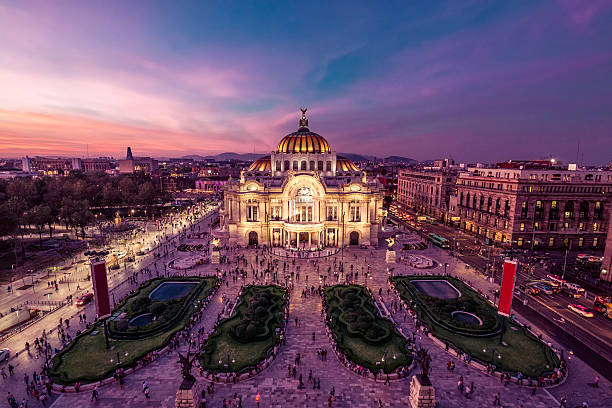 Teotihuacan is just a 30-minute drive from Mexico City. People visit the place for two impressive Aztecs stone pyramids. Take a guided tour to learn more about its bloody history and the daily life of the indigenous people of Mexico.
The Day of the Dead Festivities at the beginning of November transform the city into one big party. Thrill-seekers will love riding the roller coasters at Six Flags Mexico. If you have older kids who are interested in experiencing the modern side of Mexico and immersing themselves in culture, consider Mexico City.
The St. Regis Mexico City is located in an ideal part of the city, has a kids club on site, a pool, and a great restaurant.
There is so much for your family to see and do in Mexico, it is time to start planning!